Fishing Bamboo - Casting a Spell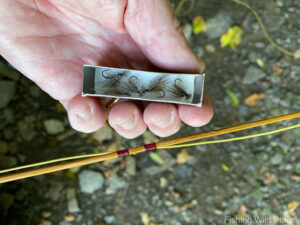 Even when I was only about 16 years of age, Bamboo fly fishing rods fascinated me. We're talking about 1980 here, during the boom of glasfiber and soon carbonfiber rods. One of the "nestors" of our local fly fishing scene, Noud Brancard, owned a short bamboo "casting stick". I can't remember seeing any brand on it. But when I used that rod during our practice sessions, I could cast 25 to 30 meters of fly line with it! Swoosh-swoosh-double-haul-bang! (with hindsight, it might have been an Austrian build Brunner)
So, of course, I had to have it and Noud agreed with selling it to me. The little rod could not have been longer than 7 foot. Happy as a lark I took it fishing for trout in the Belgium Ardennes that summer. What a disappointment! I learned the hard way that fly casting is NOT 100% related to fly fishing. With having only 8 or 9 meters of line out, plus 2 meters of leader, the rod did nót perform. It just did not bend.  I was in luck, a fishing pal wanted to buy it. So I sold it on and I went back to fishing carbon fiber rods.
Later in life, when I was running my own wholesale business in fly fishing tackle, I got involved in selling the Dutch build G&G bamboo rods to Japan. two Dutch friends, Ger Vroomen and Gerrit Glezer created beautiful bamboo rods which can be recognised by the pointed "star" above the grip. I had a go myself, but could not get used to the action. It just didn't suit my casting or fishing style and continued fishing my beloved Sage LL 9′ #4 rod and my Orvis Far & Fine. (to name some.)
Many, many moons later, my interest in bamboo rods got triggered again and this time I got lucky. During a secondhand tackle show I managed to buy an used bamboo rod build by Dutch rod builder Peter den Hollander. Peter builds his own line of bamboo rods under the brand name "Classic Creation".  It was a charming little 6′ 3" rod called "The Flea". When I took it out for a first trout trip on a small German brook, I couldn't believe how wonderfully well this little rod responded! It is like an extension of my arm. Never before have I been able to "load" a rod like this. Using a #4 Cortland Silk line and a leader of about 6 feet, it has become the ultimate small stream combination for me. Most of the time I match it with a handmade Mohlin of Sweden Mini Trout reel, build by my Swedish friend Bo Mohlin. Or a vintage little Hardy Uniqua which was gift from my late friend Yvan Bonnevalle.
After 2 seasons I asked Peter to build me a spare tip and recently he has added a shorter additional butt section to make my life easier when fishing all the way upstreams into the narrowest margins of "my" German brook.
In the meantime, my appreciation for bamboo rods has extended to my spin- and carp fishing activities. Currently I am fishing various Pezon & Michel bamboo rods (like a BB1 and BB2) and als a nice set of 2 Hardy The No. 2 LRH Spinning Palakona Rods (9'6″). Matched with vintage Abu Cardinal reels of course. 
Let's face it, I'm a slowly becoming a nostalgic old man. (Hope you enjoy the photographs below.)
By the way: here are 3 wonderful books about -fishing with- or  the world of Bamboo rods I can recommend:
"Casting a Spell" by George Black
"Travels with a Two Piece" by John Bailey
"Fishing Bamboo" by John Gierach.
"For my money, if you walked into a workshop with a bamboo rod, asked who made it, and half a dozen people all said at once, "I split the cane," "I ran the beveler," "I glued the spines," "I wrapped the guides," and so on, you'd be holding a production rod. 
If, on the other had, one guy puts down his coffee cup, turns down the radio, and says, "I did", then you've got a handmade rod, and I guess it doesn't matter to me wether he used a plane, a beveler, or a pocket knife." 
John Gierach – Fishing Bamboo