Sometimes, when a friend asks me; "what's your favourite book about fly fishing ?", most of the times I have to leave it unanswered because there are quite a few good books available and making a single choice isn't easy. However, I do have some books which are very special to me and if I have selected one right now. I have two little books written by the American author Nick Lyons (both are little jewels !) and this time I put the spotlight on "Bright Rivers".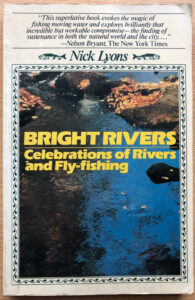 Years and years ago (I guess it was around 1988) I visited the Fly Tackle Dealer Show in Denver, Colorado, and suddenly I was eye to eye with a "short", friendly looking man who asked me for a light since he had an unlit cigar in his hand. Before we knew it we were having a good conversation, maybe because I have a weakness for cigars as well (However, Nick Lyons gave up smoking a couple of years ago.)
"You're Nick Lyons ?, wow, I love reading your articles in Fly fisherman! As a matter of fact, it's the first thing I read when I get my new issue." Nick was quite surprised to find an European reading his stuff which such "gusto" and he invited me to his booth (he's a publisher if you didn't know it already), buried me with books he didn't write but which (according to him) I must have read and last but not least he gave me a copy of Bright Rivers and added a nice personal note in the front. I was in seventh heaven!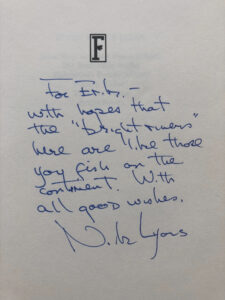 On my way home I must have read the paperback at least three times, from front to back and from back to front…what a wonderful, delicious little gem of a book. And now, years and years later, I still get it out of my bookcase every now and then to read one or two chapters. Nick Lyons understands very well what fly fishing is about and doesn't write only about fish and fishing. In his books, it rains a lot and quite often, his leader breaks or gets terribly tangled up and his waders fill up with cold water at great intervals. Next to that his conscience is fighting between "fishing" and "marriage" and he looks through a very sharp pair of glasses when he's looking at City life. (We're talking about New York which isn't "just" a city…..hence the capital C)
My personal conclusion; "Bright Rivers" is a book which you shouldn't be without, it's a little gem, full of humour, knowledge and touching moments.